Windows 10 is so popular amongst Windows Users because it is the latest version of Windows which was launched in 2015. Also, what might have triggered its popularity is that Microsoft said this is going to be the last version of its operating system. However, the features are being updated regularly. Therefore, this is one amongst many reasons why you should activate windows 10. Moreover, another legit basis for you to run windows activation process is that you'll keep receiving nagging messages, having the risk of viruses attacking PC, failing to enjoy the latest updated feature, and more. So, in this article, we listed 4 best Windows 10 free activator and show the detailed guide how to use them, simply take a look at it.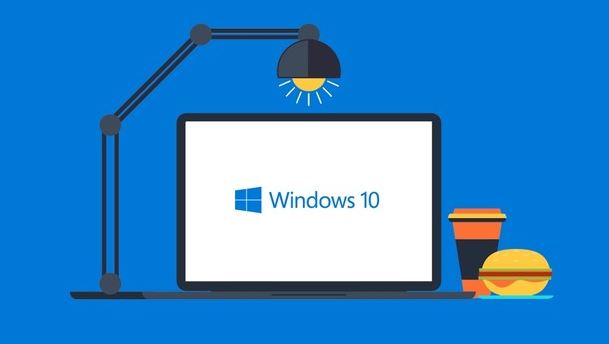 KMSpico is one of the best KMS activators in the world to use and activate Windows 10 for a lifetime. KMSpico does this without a license key. This versatile tool provides activation key for all Windows 10 Microsoft versions. More importantly, it works well with the 32-bit and 64-bit versions of Windows. KMSpico can be described as a technology that activates the software in bulk.
How to activate windows 10 using KMSpico
Step 1. First, turn off the Antivirus on your PC some few minutes before downloading KMSpico. Then download KMSpico from one of their official website. Once downloaded open KMSpico windows 10 activator using the WinRAR tool and install it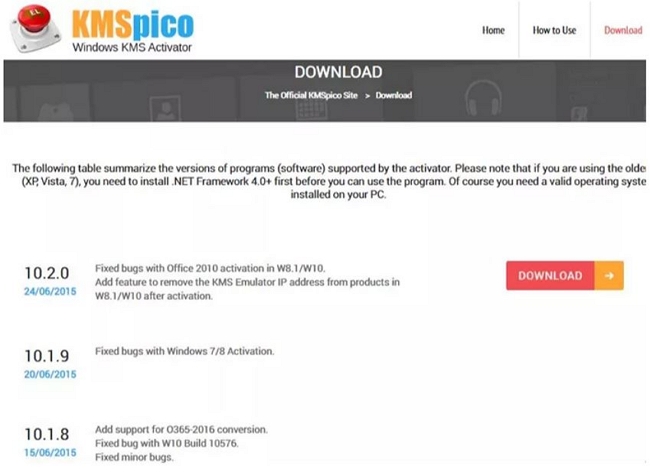 Step 2. Go to the"Start" menu and click KMSpico. In case it prompts User Account Control, click"Yes."
Step 3. Click on the"Red" button even when you just installed Windows 10 to initiate the activation process. It will not only activate the Window but also all the Microsoft products that you have installed on your computer.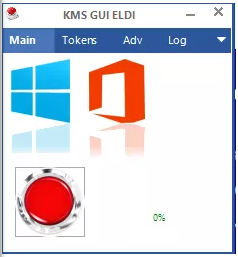 Step 4. Click the"Tokens" tab followed by clicking the blue square button with the"i" letter to check your activation status.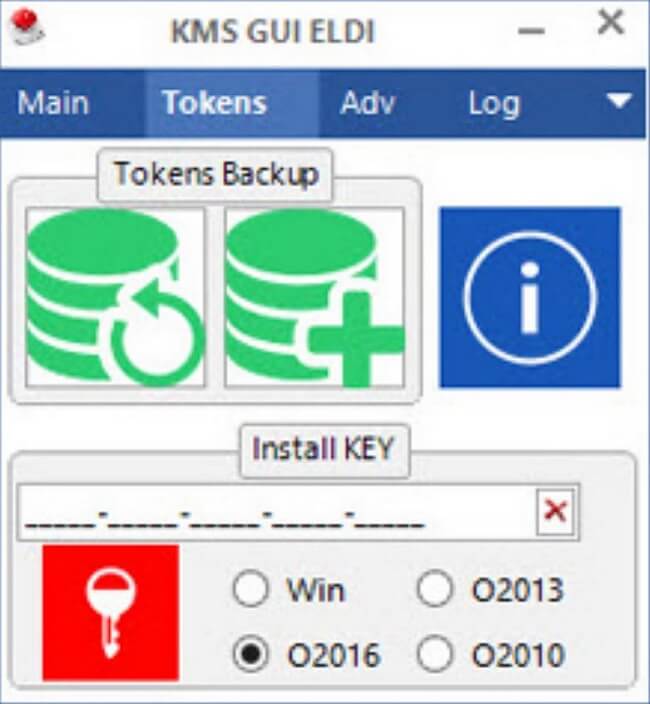 Pros:
It does not access private data.

It supports different product languages.

No internet needed for activation.
Cons:
For Windows XP, Vista, and 7 prompts and additional .NET Framework 4.0. Activation.
Another Windows 10 activator is KMSAuto. KMSAuto is a powerful tool that allows you to activate both the Microsoft Windows and Microsoft office. It is a brother software to KMSpico. If KMSpico doesn't work for you, certainly KMSAuto will automatically seek Windows 10 activation key automatically for you. The only difference is that KMSAuto requires the Microsoft ToolKit for it to run correctly.
How to Activate Windows 10 using KMSAuto
Step 1. Turn off all the firewalls and antivirus programs on your computer. They might block the Windows 10 activator from running on your system.
Step 2. Download KMSAuto form its official page or via any of its official link.
Step 3. Once you have successfully downloaded the software, Unzip then install KMSAuto.
Step 4. Click the"Start" tab and then click on the KMSAuto auto to install it; run the KMSAuto Net.exe file as administrator.
Step 5. Next, click on"Activate Windows."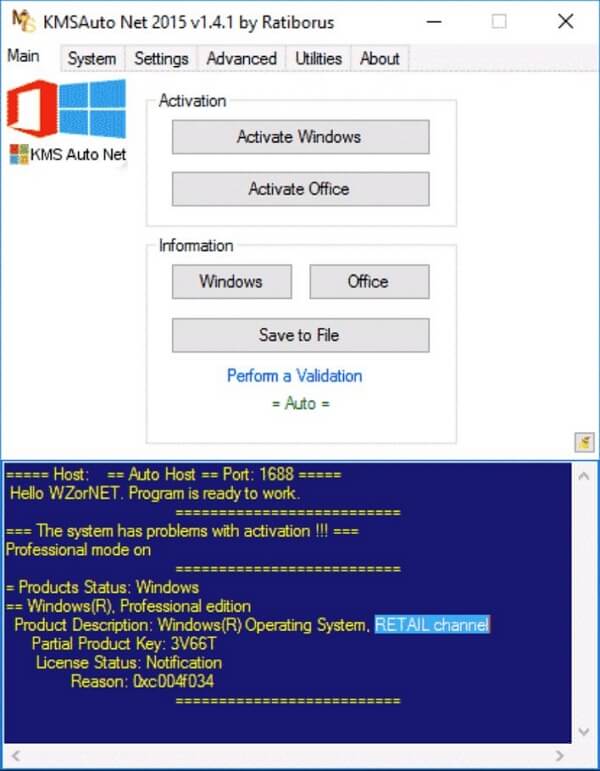 Step 6. Restart the PC and activation Windows 10 completed.
Note: If you cannot access to Windows after restarting the PC as you forgot the login password, check the solution: How to Recover Windows 10 Password?
Success! That's how simple and straightforward activation Windows 10 process can be.
Pros:
It offers a lifetime Windows 10 activation.

Require no subscription to activate Windows 10.

It offers quickly easy activation.

It is free from malware and viruses.
Cons:
It works with the 64-bit system only.
Microsoft toolkit, also widely regarded as MS Toolkit, is a set of tools incorporated together. They are majorly used by professionals to manage, license, and activate all Microsoft products. The great feature of Microsoft toolkit is its feature to work well with all Microsoft products and all Windows versions without the exception of professional tools. With the release of version 2.5 Microsoft toolkit, it came with a feature you can freely use without spending some coins and activate Windows 10.
With MS toolkit activation, Windows 10 is a smooth process, as shown below:
How to activate windows 10 using KMSpico using Microsoft Toolkit
Step 1. Run"Microsoft Toolkit.exe" as an administrator.
Step 2. From bottom-right, select the"Windows" icon.
Step 3. Click the"Product Keys" tab. From this same window, get info about your Windows 10 system by clicking on"Check System."
Step 4. From the drop-down list, select"Product and Edition" concerning your"System Information."

Step 5. Hit"Install"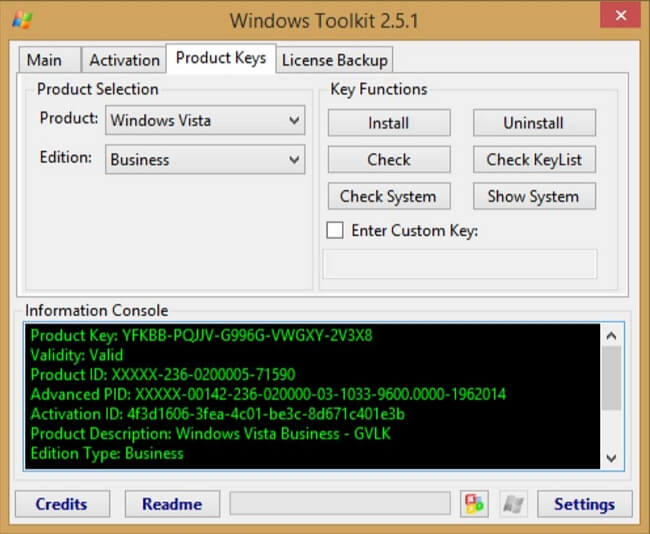 Step 6. Next, click the"Activation" tab. Tap"EZ – Activator." Wait for a few minutes to complete.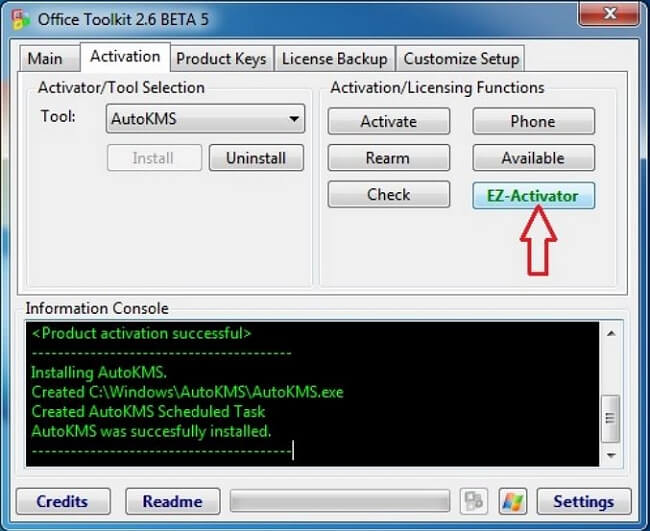 Pros:
You can seamlessly activate both Windows and MS Office

The all process does not require internet connection.

It is free from virus
Cons:
Only supports 64-bit system.
Windows Loader is yet another robust and reliable Windows 10 activator we are highlighting in this article. Regardless of its simple design, Windows Loader can feasibly activate almost all versions of Windows; Windows 7, Window 8, Windows 10. It works by providing a System Licensed Internal Key (SLIC) code into Windows 10 before restarting the machine. This workaround "lies" to Windows Activation Technologies (WAT) that Windows Loader has been installed on an official version of the OS. All this is effortlessly taken care of by Windows Loader for free.
You are only supposed to follow the guide below to initiate activation Windows 10 process
How to activate windows 10 using Windows Loader
Step 1. Start by downloading Windows 10 Activator in a RAR file.
Step 2. Extract Windows 10 Activator file with WinRAR.
Step 3. Now, run that file and then click on the Activate button.
Step 4. Restart the PC. Once it powers on you, have completed and activate Windows 10successfully

Pros:
It is a small download setup size

User-friendly and easy to understand.

Genuine and 100% working

Not harmful for PC
Cons:
It does not have extensions.
Conclusion
After reading this article to the end, you'll realize how quick and simple you can get Windows 10 activation key without much hassle. Your skills and wide knowledge about Windows is not a must. Pick the right utility you feel you understand the most and use it to activate Windows 10. Also, analyze the program's pros and cons before you made up your mind up which tool to use.