Your Windows Password is your first line of defense. It keeps your files and data safe from unauthorized individuals. Without a password, they are unable to access anything on your computer and as such cannot alter your work in any way. But when you lose the password, its blessing can quickly turn into a curse. You are now unable to access your own files and to most people, the only way to fix the problem is to reset the computer which always means data loss.
Fortunately, there are a lot of Windows password reset tools that may be able to help you reset the password and unlock the computer. One of the most popular Windows password reset tools is iSunshare Windows Password Genius. In this article, we are going to take a look at the program's effectiveness and provide you with a much better alternative.
1. What is iSunshare Windows Password Genius?
iSunshare Windows Password Genius is a tool that can help you bypass Windows7/8/10 Password without having to format the computer or losing all your data. It is the ideal solution when you've lost your Windows password and everything you've tried to remedy the situation hasn't worked. The program works by allowing users to create a bootable CD/DVD or USB drive that can then be used to recover the lost Windows password.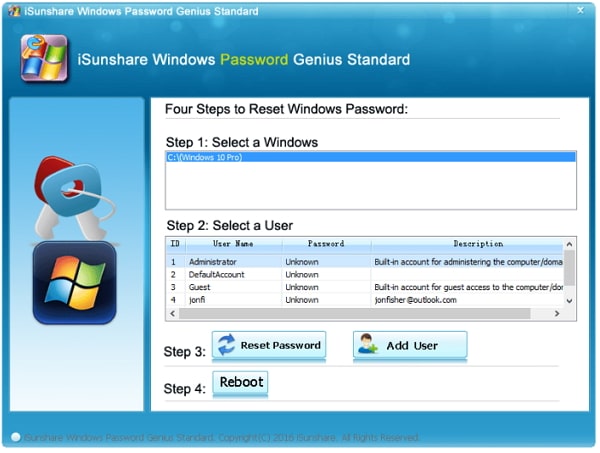 2. Test and Reviews of iSunshare Windows Password Genius
Having tested the effectiveness of iSunshare Windows Password Genius against other programs of the same nature, we've outlined the program's pros and cons as an easy way to share with you the program's effectiveness.
Pros:
It can work on both Windows and Mac computers.

It has a high rate of Windows password recovery on Windows 10 systems as well as Windows 8.1/8, Windows 7, XP and Vista.

The program can create the bootable CD/DVD or USB very quickly.

It provides a very detailed tutorial and support articles aimed at helping you easily use the program to remove or reset your Windows password.
Cons:
Some users of the program have reported a number of errors while using the program. One of the main errors reported is the "Failed to Detect USB Drive" error that occurred for those who used USB as the bootable disc of choice.

The PE software that iSunshare uses is too old which is the primary reason there are so many errors when using the program.
3. Alternative to iSunshare Windows Password Genius
If you have tried to use iSunshare Windows Password Genius and encountered some of the errors mentioned above, you may be in need of an alternative that works better. We have found two better alternatives to iSunshare, both of which are easier and much more effective.
We also make a comparison of the 3 Windows Password Reset tools. You can look through the table below then directly jump to the one you prefer.
1st Alternative: Passper WinSenior
By far, the best iSunshare Windows Password Genius alternative is Passper WinSenior. The program utilizes the best technology to not just ensure that the recovery process will be 100% successful, but also that it is as simple as possible, making it the ideal tool even for beginners. You are unlikely to experience any errors with WinSenior and it works every time whether you are resetting the password, removing the password or even deleting a Windows account. The following are just some of the advantages of using Passper WinSenior as your go-to Windows password recovery tool:
It has a 100% recovery rate. This means it will recover or reset the password every time you use it.

Unlike Ultimate Boot CD, it is very easy to use. The steps are easily laid out, allowing you to recover the password in the shortest time possible.

You system is safe during the recovery process, there is no chance that the system could get damaged or that you could lose any of your data.

It supports all versions of Windows.

It also supports FAT16, FAT32, NTFS5 file systems as well as RAID/SCSI/SATA drivers.

You will not encounter any errors while using this program; it is simple, straightforward and highly effective.
Free Download for Win 10/8.1/8/7/XP
Here's how to use Passper WinSenior to Reset Windows Password
Step 1: Download and install the Passper WinSenior on another accessible computer and then launch the program.
Step 2: Launch WinSenior and select the type of bootable disc you would like to create. Insert the bootable drive into the computer and then click "Create" to begin. In the popup that appears, click "Continue" to begin the burning process. Eject the CD/DVD or USB once the process is complete.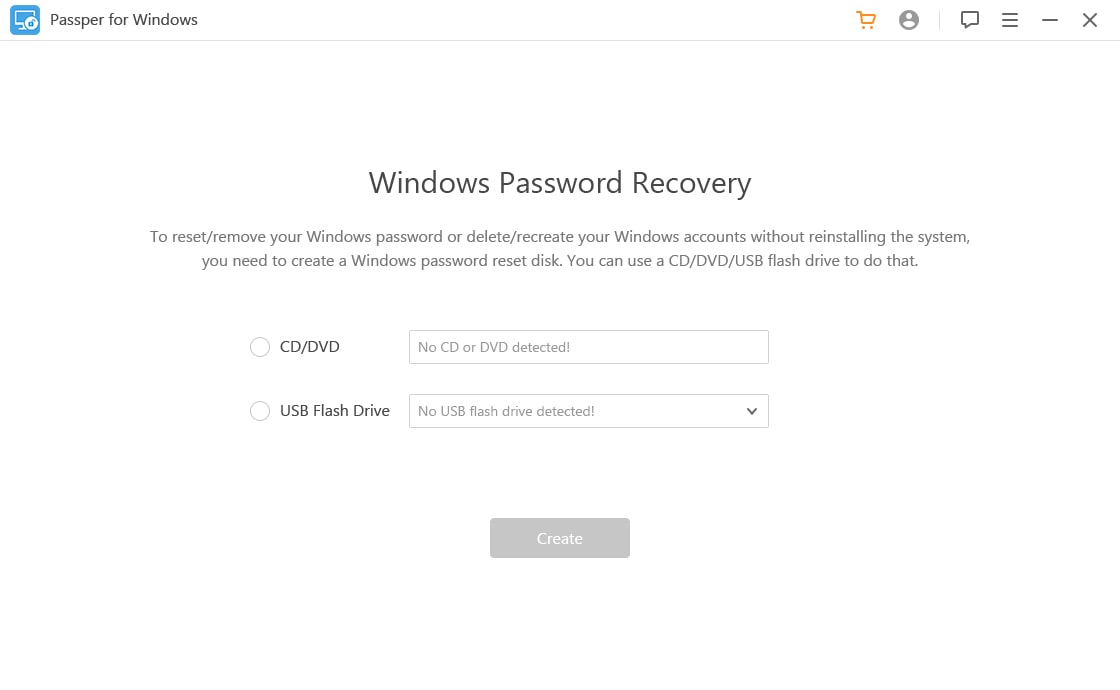 Step 3: Now insert the disc into the inaccessible computer and then follow the on-screen instructions to enter the boot menu. The program will guide you on the buttons to press to get the computer into the boot menu.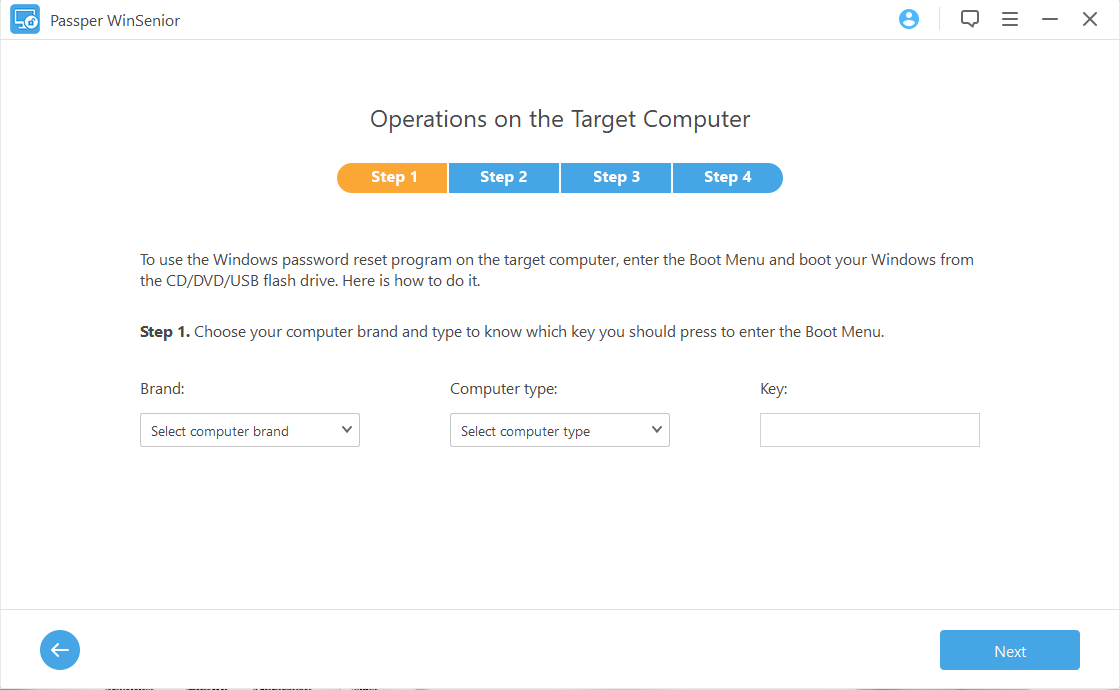 Step 4: Once you are successfully in the boot menu, a new interface will appear select "Reset Windows Password" from the options presented.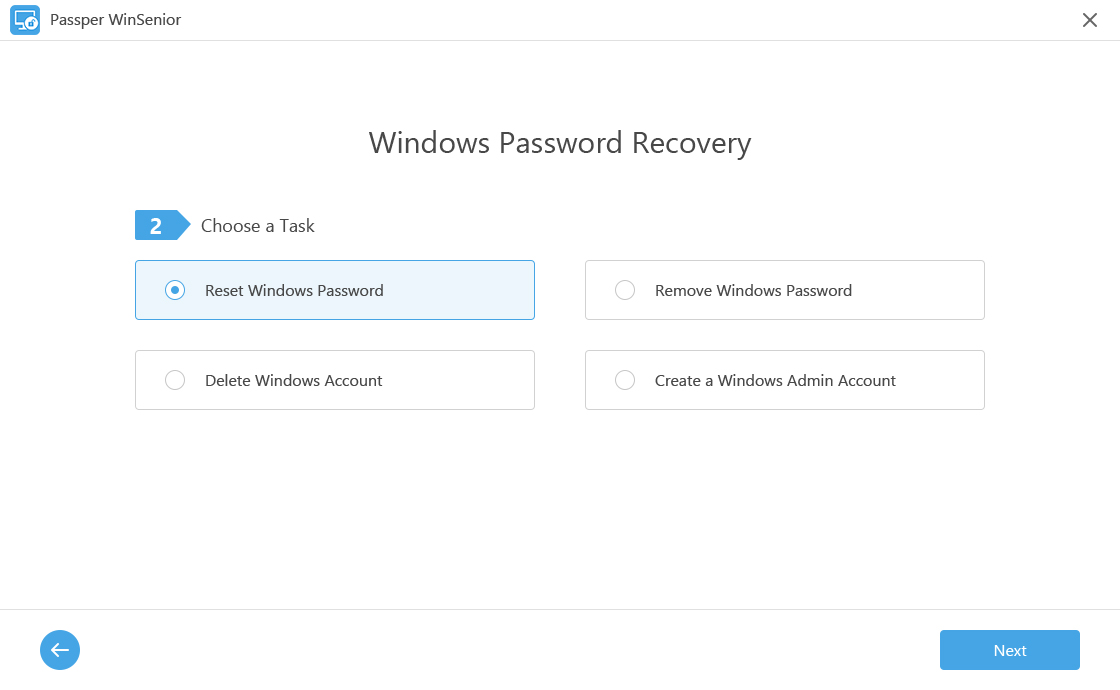 Step 5: Choose the user account whose password you want to reset and then click "Next". Enter the new password you want to use and then click "Reset".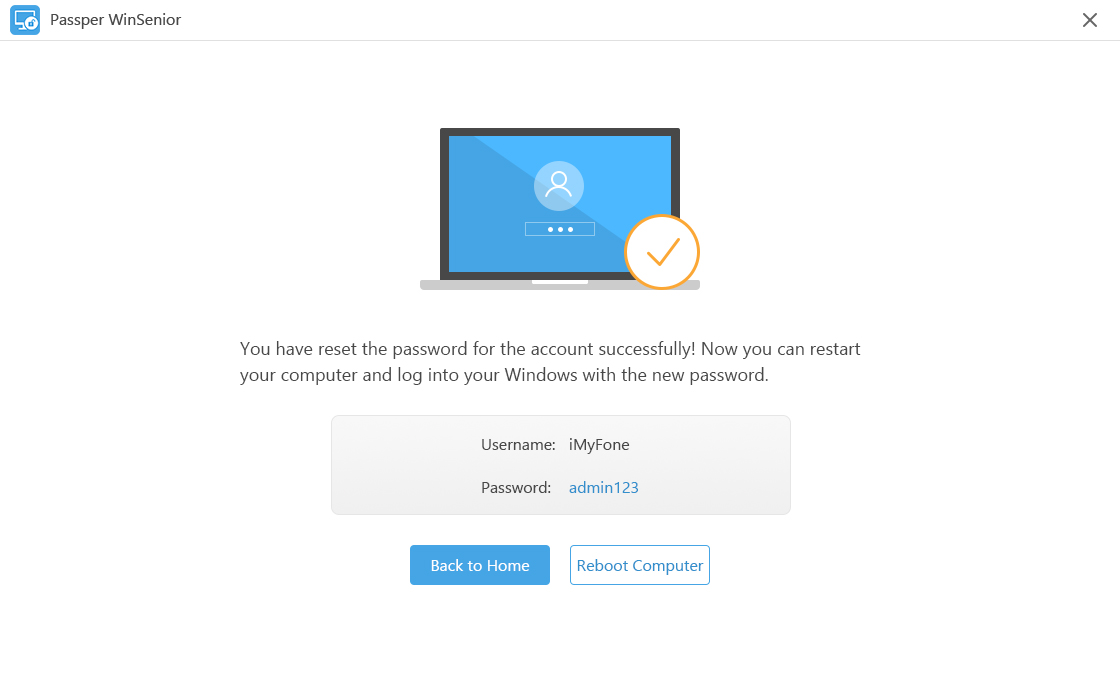 The program will notify you once the process is complete. You can then click "Reboot" to restart the computer and use the new password.
2nd Alternative: Chntpw
Chntpw, also known as Ultimate Boot CD is built and maintained by Ubuntu developers and works to repair your Windows system without affecting the data on the computer. It is fast, finding the missing password or resetting it in a matter of minutes and modifying the SAM file, all automatically.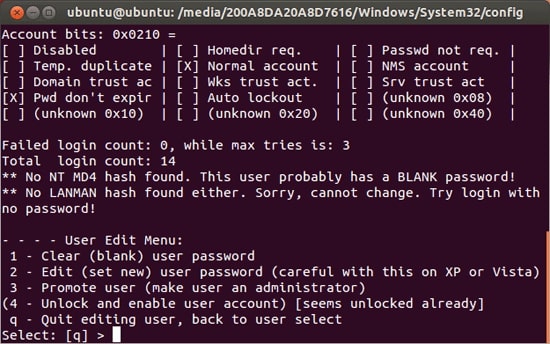 Cons:
As advantageous as the Chntpw can be, it does have some disadvantages that may make it rather problematic for most people to use. These include:
It is a very complex process that can lead to system damage if you are unfamiliar with it.

It also requires the use of command prompt and may therefore not be ideal for you if you are unfamiliar with command prompt.
Recovering or resetting your Windows password doesn't have to be a difficult process, nor does it have to result in data loss or damage your system. With Passper WinSenior, the process is easy, effective and highly successful.