Are you looking for a wordlist generator to create a wordlist in order to recover a forgotten password for your encrypted Excel files, PDF files, RAR files, or other files? Wordlist is an effective way to unlock password. If you want to get to the bottom of it, this place is the most appropriate for you. We, through this article are dedicated to make you aware of what wordlist is and how to use wordlist. Stay with us to discover more on wordlist generator.
1. What Is Wordlist?
To start with, a wordlist, as the name shows is a list of words. It is a text file having words that can be used in dictionary attack. Now, before you wonder what dictionary attack is, let us explain.
A dictionary attack refers to try all the entries of possible passwords in a list until it finds the password. This technique with the help of wordlist shows possibility to recover passwords because nearly all the users opt for weak or common passwords. In general terms, it can be classified as a form of trial and error method that is believed to bring out the results fast. Common passwords may include numbers, places or well-known names of people.
Wordlist can make it possible to recover passwords of documents and files like Excel files, PDF files, Word files, Zip files and so on. Apart from this, choosing the correct wordlist size is essential. It goes simply to keep the wordlist small if you have to hack larger number of accounts. If there is a single file to be recovered, you can use a larger wordlist. This will surely raise the chance of finding the correct password.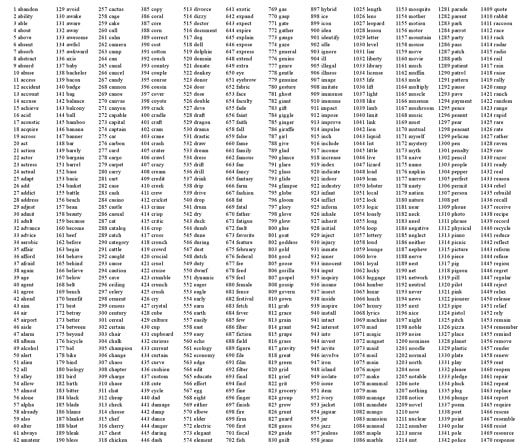 2. How to Use a Wordlist
Before you work on a wordlist generator, you should know how you can use it. Using it for Dictionary Attack can be understood as an efficient way to get the forgotten password back. To opt this way, one needs to have a sound knowledge on the tool that makes the task easier and fulfilled rapidly.
From a pool of tools available in the web world, all you need is the perfect one. The most recommended option that can help you importing wordlist file for Dictionary attack initiation is Pssper password recovery tools. You can find tools from Passper to recover your password for Excel/Word/PowerPoint/PDF/ZIP/RAR files. The tools will allow you securely import the dictionary file thereby allowing you to search for the password. Excelling the others based on the outstanding performance and speed for recovery, this tool should be just the best one for you.
Fastest Recovery Speed: Search millions of passwords per second for some files, which saves lots of time.

4 Attack Methods: If you cannot find your password from the wordlist, you can also try the other attack methods: combination attach, mask attack, brute force attack. Based on its smart algorithm, these attack methods are proved to be effective.

Remove Passwords: For the passwords that are set to prevent editing or printing a file, Passper can remove it with 1 click.

Easy to Use: With user-friendly interface, you just need 1 click to import your customized wordlist.
Let us now understand how you can use this tool for dictionary attack. We will take Passper for PDF tool for an example. Please read the steps carefully and follow the steps one by one. Before beginning, ensure to download the program on your PC and proceed for the installation. Once the installation gets completed, launch the tool and go ahead with the following steps.
Step 1: You have entered the main interface now. From there, please click on the "Recover Passwords" tab.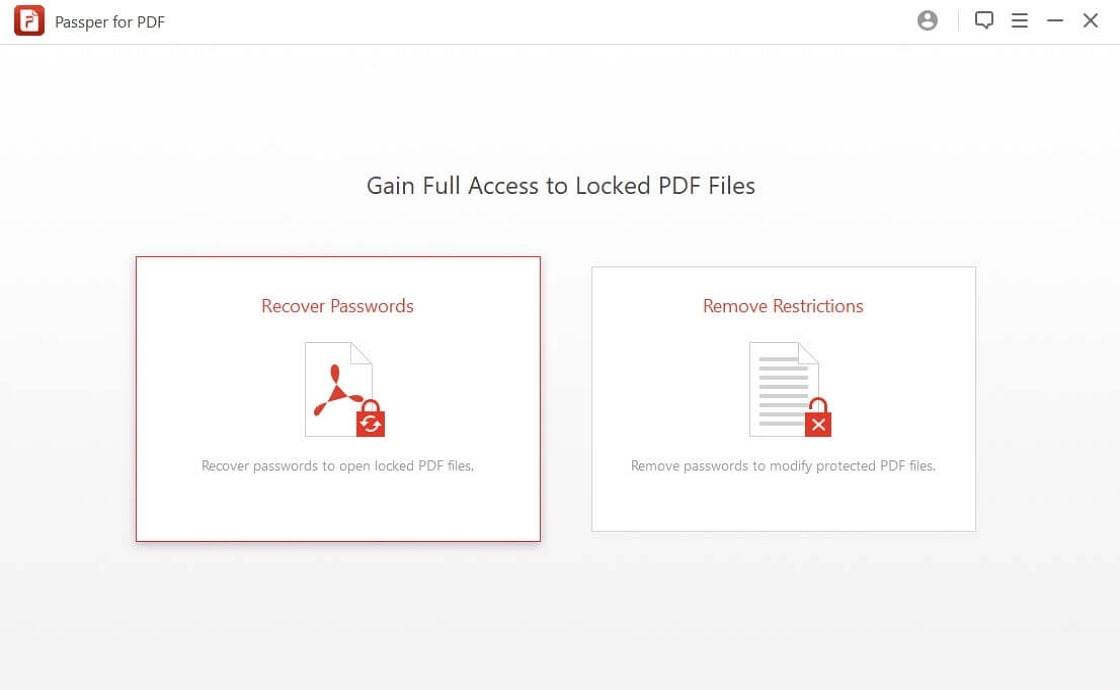 Step 2: Select the "+" icon to add the PDF file which is password protected. Followed by this, you are required to choose the attack types from the four options. In this case, choose "Dictionary Attack" which is the most apt solution for recovering password from a dictionary file or wordlist. Then click the import icon besides "Dictionary Attack" to import your dictionary file. The tool is also equipped with a default dictionary which includes the most frequently used passwords people create.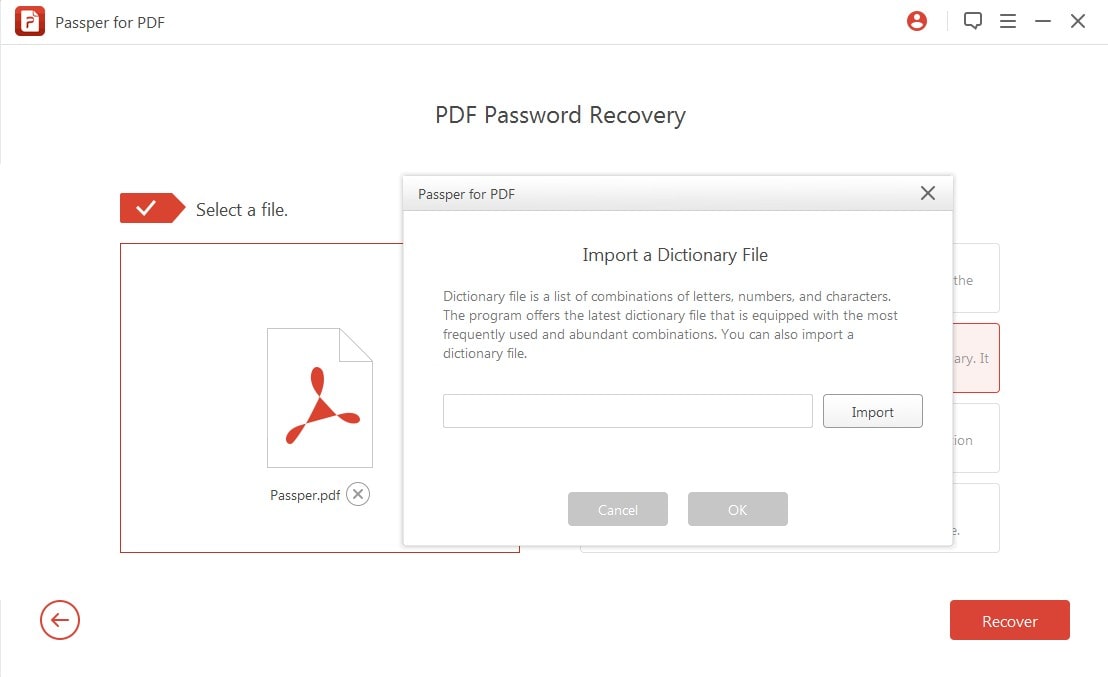 Step 3: After selecting the attack type, proceed further by clicking on the "Recover" button. Now, the recovery process will start and you can wait until the process gets completed. You can also pause the process if you want and then resume it later. The program will show your password on the screen soon.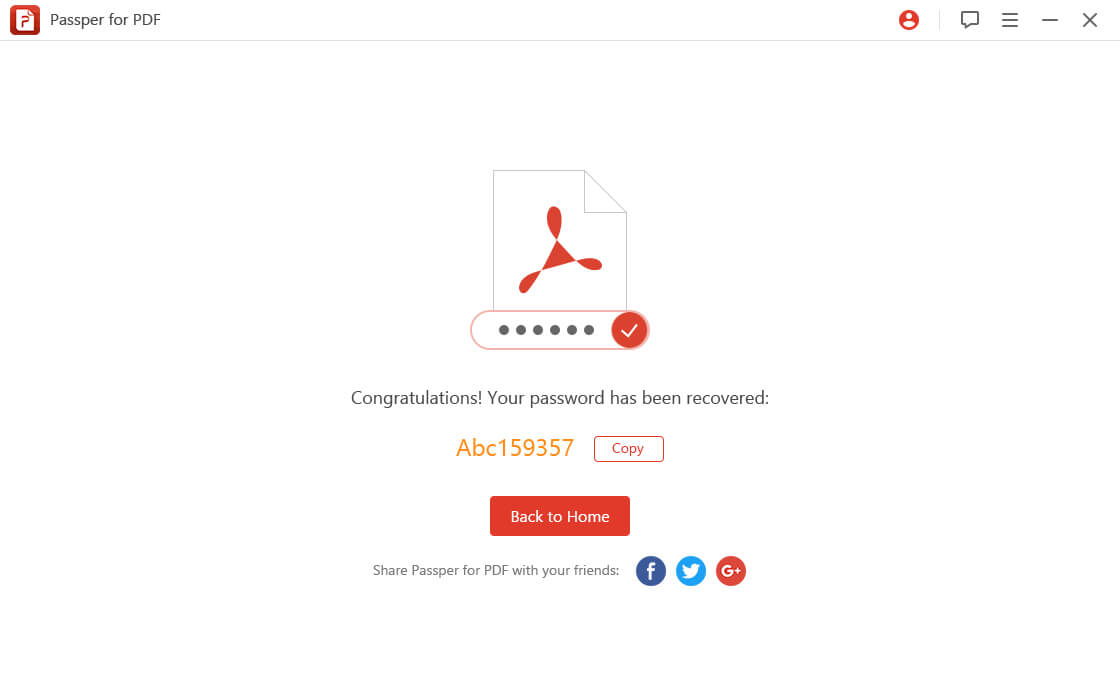 3. Wordlist Generator
There may be a lot of dictionary and wordlist files which can be of no use. Creating your own wordlist will work best for you. To create a wordlist, you may find many online, offline and third-party wordlist generators for the purpose. Using those, you can provide the character-set and least and highest length of password for creating dictionary.
However, the wordlist geneators you can find online are not so easy to use for most people. Therefore we would like you to drop comments below and bring your views into our considerations regarding the wordlist generator. Let us know what you expect from a wordlist generator and what kind of features you need. We will  try to create a tool that will meet up to your needs.